The best manuka honey products of 2022
Although it's been around for thousands of years, Manuka honey has recently grown in popularity.
So much so that we now see our shelves scattered with various types of Manuka honey.
So, we've put together this guide to help you decide which Manuka honey is right for you, help you learn how to check it is real and understand its qualities and health benefits.
We'll cover all you need to know about Manuka honey, and which is the best Manuka honey available to buy in the UK in 2022.
What is Manuka honey?
The name for Manuka honey derives from the Manuka bush (Leptospermum scoparium), which is indigenous to the Wairarapa region of New Zealand.
In the summer months of December and January, bees in the north island pollinate the flower of the Manuka bush to create what is known as Manuka honey.
Aesthetically it's easy to spot the difference between normal and Manuka honey, mainly because of its colour and consistency.
Regular honey is yellow/orange in colour and is usually runny and transparent. In comparison, Manuka honey has a thicker consistency and is more orange/brown in colour.
More scientifically, Manuka honey contains methylglyoxal (MGO), a natural substance responsible for the antibacterial properties of honey.
Read more about how Manuka honey differs from traditional honey
What are the benefits of Manuka honey?
You might have heard that Manuka honey may help relieve a sore throat or maybe even seen it listed as an ingredient in your favourite moisturiser. 
Raw honey, like raw manuka honey, has long been regarded as a superfood and has many advantages.
Highly versatile, Manuka honey has so many uses, most likely because so many well-being benefits are linked to it. From hydrating your skin to soothing a sore throat, the benefits of manuka honey are extensive. 
Manuka honey contains methylglyoxal (MGO), which gives it its unique antibacterial properties.
In regular honey, these effects are lost; however, in Manuka honey, its antibacterial properties remain.
How do I know I'm buying real Manuka honey?
If you're looking to buy manuka honey online, you'll want to make sure you're buying the best, genuine manuka honey from a brand you trust.
At Holland & Barrett, we adopted strict approved standards in 2018 to ensure our customers buy genuine New Zealand Manuka Honey.
All of our Manuka honey products are tested in both New Zealand under government guidelines and in the UK by Fera. This testing ensures that customers get the purest, strongest, undiluted, and official Manuka honey, guaranteeing that the MGO strength is transparently presented.
You'll also be able to tell whether it is genuine Manuka honey by looking out for certified labels. Different numbers on the label represent each Manuka honey's different qualities.
Manuka Honey, with a 10+ or higher certified UMF rating or an MGO of 300 and above, is considered the best quality and can be very therapeutic for the skin.
So, if you are looking for manuka honey, choose a product that fits this rating.
Understanding what these numbers mean can be tricky, so we've broken everything down in our Manuka honey guide. 
For all other honey varieties, we ask our suppliers to meet Good Manufacturing Processes in quality, traceability, and taste, to ensure everything on our shelves is of the highest standard.
If you need some inspiration on how to use your new Manuka honey, we've showcased 14 ways you can use Manuka honey in your day-to-day life. 
Top ten Manuka honeys available in 2022
Manuka Doctor Premium Monofloral Manuka Honey MGO 240 - 250g
Manuka Doctor are specialists in high quality New Zealand Harvested Manuka Honey, with the usual from hive to home guarantee. MGO (Methylglyoxal) rating in Manuka honey is derived from DHA which is naturally present in the nectar of the Manuka Bush. Within the hive DHA undergoes the Maillard reaction to form MGO. Our MGO levels are validated by independent labs in NZ and the UK.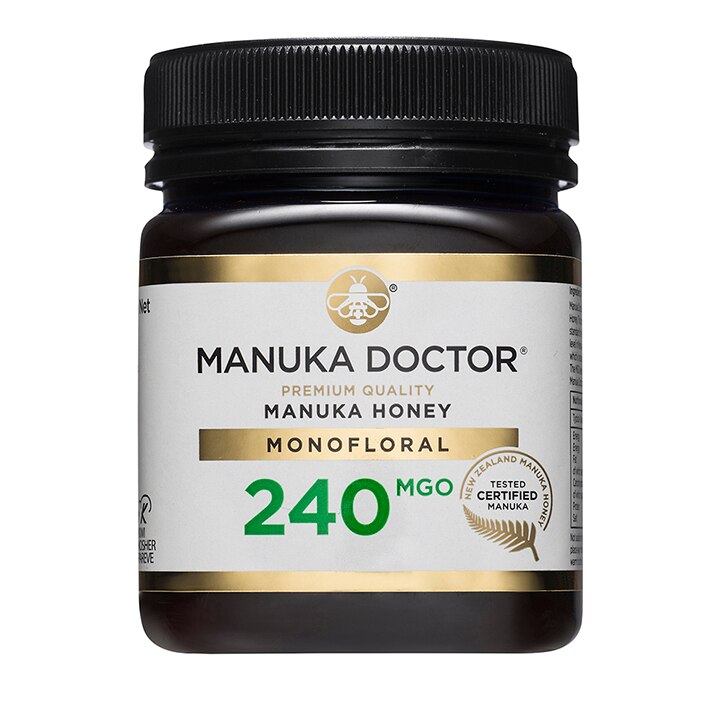 Manuka Doctor Manuka Honey MGO 70 - 500g
The MGO 70 rating of this Manuka Doctor honey is a measurement of its MGO (Methylglyoxal) levels and its antibacterial properties. Simply sipped from a spoon, added to your meal or dissolved in water or perhaps a smoothie, this Manuka honey is a versatile alternative to sugar as a way of sweetening up your diet without feeling too guilty.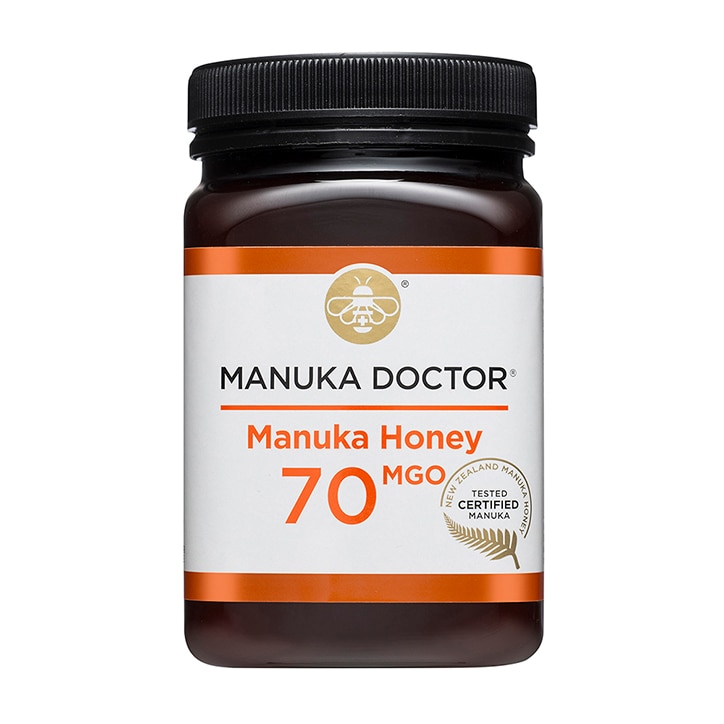 Manuka Doctor Manuka Honey MGO 55 - 500g
Like all of the other products on this list, this Manuka Doctor Manuka honey is reliably sourced from New Zealand. It has a lower MGO number, which means it has a medium strength. This doesn't particularly make too  much difference to its taste, just the potency of its antibacterial qualities.
If you're after hive-to-home honey that's New Zealand approved and tested in the laboratory, then Manuka Doctor Manuka honey at Holland & Barrett comes highly recommended.
Manuka Doctor Manuka Honey MGO 40 - 250g
Manuka Doctor has long been one of our best-selling, Manuka honey-based brands – with customers eager to get hold of the New Zealand-harvested honey that Manuka Doctor is known for.
Get sweet relief from troublesome sore throats with the natural antibacterial properties of New Zealand Manuka honey, whether it's straight off the spoon, with a meal or dissolved in water.
The advice in this article is for information only and should not replace medical care. Please check with your GP or healthcare professional before trying any supplements, treatments or remedies. Food supplements must not be used as a substitute for a varied and balanced diet and a healthy lifestyle.